Michael Automotive is excited to provide our customers and neighbors in all locations with an extended 25 year / 250,000 mile limited powertrain warranty on all new Chevrolet vehicles at any of our Fresno California dealerships. Here at Michael Chevrolet we want our customers to be fully satisfied, not only when they're purchasing their new vehicle, but for years to come. With the Michael Automotive limited powertrain warranty, our customers can drive with confidence, knowing that the Michael Automotive family of dealerships has their back. Stop by our Chevrolet dealership today to learn more about our warranty program, or contact us for more information!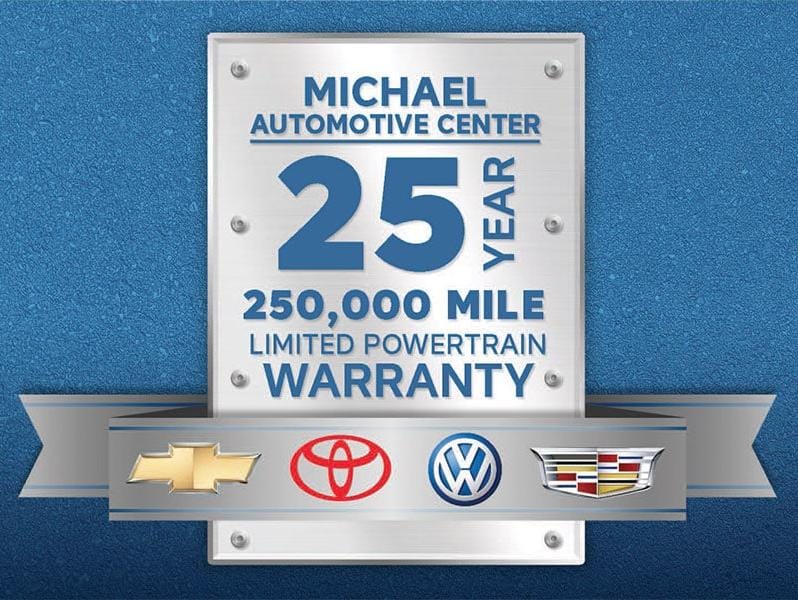 MORE ON THE MICHAEL AUTOMOTIVE EXTENDED WARRANTY
THE HISTORIC CHEVROLET BRAND:
Chevrolet was incorporated all the way back in 1911. Over a century later, our favorite automaker is still going strong. With plenty of auto experience under their belt, Chevrolet really knows just what makes a capable vehicle. While we haven't been around for nearly that long, we know Chevrolet, and we're here to be your one-stop-shop for everything Chevrolet-related.
Chevrolet makes a wide variety of some of the best vehicles out there. With their quality sedans, crossovers, SUVs, and trucks, they make something for every kind of driver. We're proud to be part of this brand here at Michael Chevrolet. With models like the Chevrolet Cruze, Chevrolet Silverado, the Chevrolet Equinox, and many more, we have just the right ride for you. We're here to help you through every step of the auto shopping process, and throughout the entire life of your vehicle. We'll help you pick out the right Chevrolet from our lot, we'll help you fit it into your budget in our finance center, and we'll help you keep it running for years to come with the Michael Automotive extended warranty. 
PEACE OF MIND WITH EVERY NEW VEHICLE SOLD:
We believe in giving you extra peace of mind here at Michael Chevrolet. In fact, we believe in giving you as much peace of mind as possible. We also believe in going above and beyond in everything we do. We decided to put those two things together, and the end result is our special Michael Automotive limited powertrain warranty.
Chevrolet gives you a 5-year/60,000-mile drivetrain warranty (whichever comes first) on any model you buy. While that's already a great value, we decided to do them one better. Every new Chevrolet we sell has a 25-year/250,000-mile drivetrain warranty. The Michael Automotive extended warranty helps make an already great car even better. Now you can fully enjoy your Chevrolet, knowing that you're covered for many more years down the line. 
ADDITIONAL COVERAGE INFORMATION:
So, just what is a powertrain warranty, and what does it cover? A powertrain warranty does not cover everything, but it does cover the most important parts of your Chevrolet: the parts that make it go. It covers your engine, your transmission, and other related parts, such as the differential. It does not cover things like tune-ups or tire rotations. If the drivetrain in your Chevrolet ever gives you any trouble, we've got you covered.
We help take the stress out of vehicle ownership. If something happens to you when you're out on the road, you can rest easy, knowing that your drivetrain is covered. With our drivetrain warranty, you get to focus more on just enjoying the drive in your Chevrolet. We believe that when you're on the road, you shouldn't have to worry about whether or not your vehicle is covered. We believe you should be able to relax and enjoy taking your Chevrolet out on the open road. 
CONTACT US TODAY ABOUT ANYTHING CHEVROLET!
Do you have any questions about our 20-year/250,000 mile warranty? What about any other Chevrolet-related questions? We have plenty of answers here at Michael Chevrolet, so come get in touch with us today. Just give us a call, or stop on by our California Chevrolet dealership. We're proud to serve drivers from all over the area, from Clovis to Madera to Selma to Visalia, and everywhere in between. We can't wait to help you too.